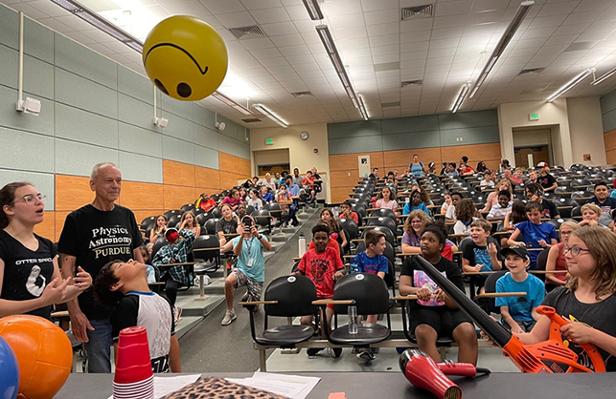 K-12 Outreach:
Promoting STEM across the world and to all ages
The awareness and understanding of the importance of STEM education has been and still is on the rise around the globe. With tremendous opportunities in STEM careers and needs of nations for a STEM-educated diverse workforce, early exposure and inspiration of younger students in STEM subjects have become essential. Outreach activities play a critical role in this regard.
Purdue's Department of Physics and Astronomy's K-12 outreach programs have a great breadth and depth, and in the past 10 years have offered a wide range of opportunities for students of all ages. David Sederberg, the department's outreach coordinator, has brought the joy of STEM and the name of Purdue into the hearts and aspirations of young students and attracted a community of learners and trainers both at Purdue and beyond.  
One of the outreach programs Sederberg initiated is called Saturday Morning Astro at Purdue (SMAP). The monthly program introduces seventh- through 12th-grade students and teachers to learning experiences that are not typically part of their regular classroom instruction. The popular in-person sessions brought in local participants to present a variety of experiments on topics, including the search for dark matter; optics, mirrors and telescopes; gravitational waves; and scaling the cosmos.
Due to the pandemic, in-person sessions became impossible, but Sederberg seized the opportunity of remote learning and even expanded the reach of SMAP. Within a year, the SMAP enrollment doubled, with participants joining from across the United States and from India, Thailand, China, Cambodia, Canada and Australia.
In addition to engaging and increasing the literacy of K-12 students, Sederberg also has been successful in involving students in the mission of outreach. A SMAP student visiting Purdue from Texas in summer 2021 had the chance to meet with Sederberg. The discussion led to a joint video presentation on the Doppler effect, which now has over 1,600 views on YouTube.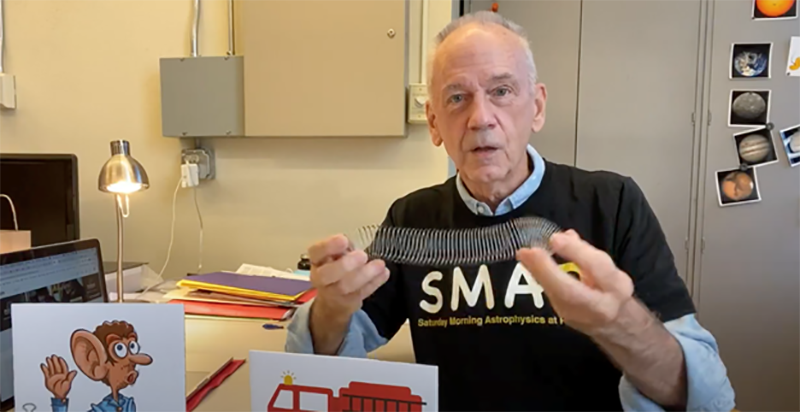 Sederberg recently expanded his outreach activities to Colombia when he brought his SMAP program to K-12 school students in Medellin via Zoom sessions. After the program, the San José de las Vegas School students reflected on the experience and summarized the impact of SMAP as positive and joyful. In addition to the students' enthusiasm for learning about exoplanets and the Stellarium app, they noted the excitement for learning and exploring that Sederberg and his team shared and inspired.
In concert with the College of Science, Sederberg runs multiple in-person and online teachers' workshops during the summer. He hosts teachers from across the country and provides lessons, pedagogy and assessment.  The themed teacher workshops are built around multiple learning goals. For example, Sederberg recruited upper elementary and middle school teachers for a "Lazy Days" workshop, introducing 10 hands-on activities with which students experience Newton's laws.
A teacher who participated in the Lazy Days workshop said, "Thank you for sharing the PD [Professional Development] workshop video. I have so many applicable takeaways. Very rare that I can use everything from a PD.  I really like the cake analogy. Especially the frosting = cross cutting concepts." The videos of the workshops are accessible on Sederberg's YouTube channel, and his comprehensive lesson plans and handouts are available on his website.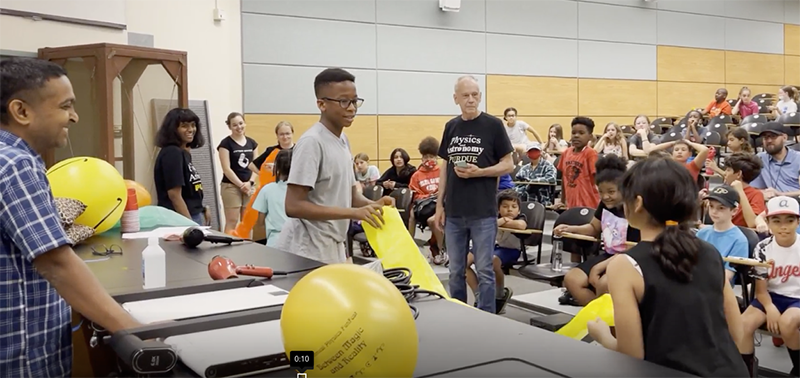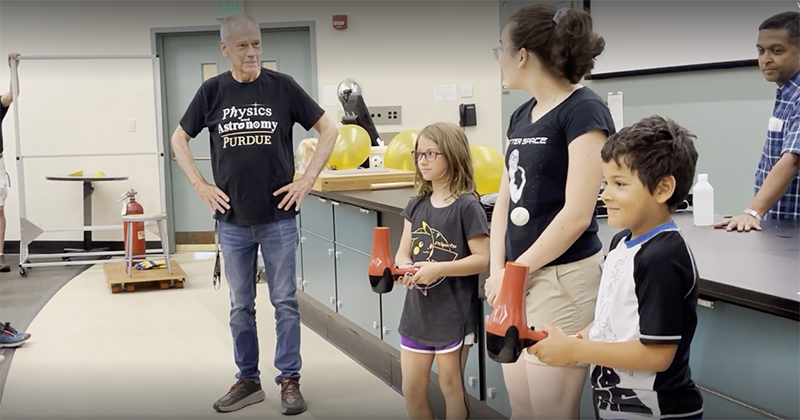 In addition to running several K-12 programs, having an active social media presence, supporting engagement with underserved communities and running service-learning courses, Sederberg also continuously supports faculty members with the broader impact of their research. This past year, he contributed to broader impact components and letters of endorsement for 13 faculty, at least two of whom submitted multiple proposals.  
Sederberg also works closely with the physics and astronomy faculty and staff who actively participate in his programs and contribute to different presentations and workshops. He serves as a mentor for Purdue undergraduate and graduate students who share his passion of teaching and outreach for K-12 students. Sederberg's YouTube channel is full of examples of their impactful collaborations. He prides himself on successfully being able to leverage and bring together multiple shareholders to a common goal.
Gabor Csathy, professor and head of the Department of Physics and Astronomy, regards Sederberg as "an asset to the department, an enthusiastic and energetic educator, who has demonstrated that studying STEM subjects can be fun, creative and empowering. He has widely collaborated with faculty and staff at Purdue, as well as K-12 teachers and educators and facilitated delivery and access of STEM experiences and activities. He has inspired many students and consistently received appreciative feedback from teachers, parents and faculty. We are grateful for all David does for our department and are excited for his next outreach adventure."
To support physics and astronomy outreach and help spread the fun of science, visit the Physics and Astronomy Outreach webpage.
Written by: Boshra Afra, Assistant Department Head of the Department of Physics and Astronomy