Saturday Morning Astrophysics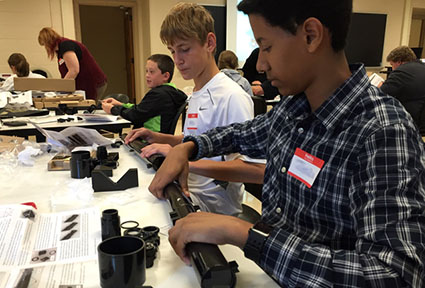 Saturday Morning Astrophysics at Purdue (SMAP) is a program offered monthly for middle and high school students in grades 7-12. We dive into current topics in astro research, historical background and discovery, and fundamental principles related to physics and astronomy, at grade appropriate levels.
Dates:   Selected Saturdays, announced monthly
Times:  11:00AM Eastern
Format: Live on Zoom / YouTube Live
SMAP introduces grade 7-12 students to learning experiences not typically part of their regular classroom instruction. SMAP will provide students an appreciation of the vast distances and ages of objects across space and time, the tools and methods employed for discovery, and historical perspectives of the women and men behind the science.
SMAP students will do experiments and activities, exploring phenomena across the cosmos; speeds that astound, scales you would never imagine, and fundamental principles that guide and support discovery – light and waves, space and time, energies and forces, addressing the basic questions, how do we know and what does it mean?
Physics and Astronomy faculty and research scientists introduce each SMAP session with the background and information relevant to the topic in question – what is significant, what science is involved, what questions exist, what methods do we need to use in order to discover, and what do our findings tell us?
SMAP is offered on selected Saturdays, monthly during the academic school year. Registered students and parents will be notified by email in advance of each SMAP session, with the topic, and any materials that may be required or need to be printed for the lesson.
Students may register for SMAP using the link below, any time throughout the academic year. Students need only to register once, and are free to pick and choose the session(s) in which they would like to participate.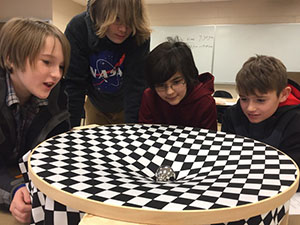 What's In Store for SMAP 2022-2023?
Kepler's Laws:
Use actual data to find the mathematical relationships between position and time of orbiting bodies.  How do the orbits of planets and comets differ? What do they have in common? Learn about the social and political climate of the times, and maybe even meet the old man himself – not to be missed!
Life Cycles of Stars:
What happens to star as they age? Some starts have shorter lives, other seem to last forever, (relatively speaking). You will be able to collect some real data, comparing the lives of stars, their color, how big they are, and how long they last. You just might learn something about our own future, here on Earth!
Searching for Exoplanets
Stars appear as tiny specks of light in the night sky, even with the most powerful telescopes here on Earth. Planets can be 100 times smaller in diameter than the stars (suns) they orbit. How do we know they are even there?  Could they possibly support life? Learn how astronomers answer these questions and more.
Scaling the Cosmos:
Get a first-hand feel, starting with your own model sun, just how tiny the planets in our solar system really are. Then, using the same scale, see for yourself how vast the distances are between them. What else is out there? Join us for this one and find out.
Constellations in the Night Sky
Even across vastly different cultures, East from West, humans have looked to the night skies and envisioned familiar objects real and mythical creatures, many enshrouded by events and destiny. Have fun finding these patterns for yourself and learn about the stars that comprise them. Have fun learning about and enjoying your own night sky, wherever you are.
These are just a few of some potential SMAP sessions for 2022-2023. Check back for announcements of further additions and for upcoming sessions.
Be among the first to register for the fall 2022 SMAP. If you are a middle or high school student in grades 7-12 and want to know more, join our wait list and mark your spot in line.
Stay up to date with the latest SMAP Zoom recordings, new lessons and experiments you can do at home on our YouTube channel.
For our fellow educators
Educators and home school parents – would you like to be in the SMAP loop? Teachers for SMAP is for you. We'll notify you of upcoming SMAP activities, share our lessons and materials for use in your own classroom, and notify you of professional development opportunities.
For any additional information, please contact Physics and Astronomy Outreach Coordinator Dr. David Sederberg.
Highlights from past SMAP programs    Selected lessons and activities
Last Updated: Jun 6, 2022 8:59 AM