Scholarship Endowment Spotlight: The Frederick P. Longwell Memorial Endowment
Edmonds family honors memory of Frederick Paul Longwell (alumnus 1942) with endowment to Purdue Physics and Astronomy
Story by Cheryl Pierce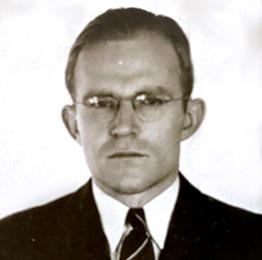 Frederick Paul Longwell graduated from Purdue University in 1942 and went on to have an illustrious career as an optical engineer.  As a tribute to Frederick, his family has created the Frederick P. Longwell Memorial Endowment to honor him.  His daughter, Ruth Edmonds and her husband Ted Edmonds created this gift to the Purdue University Department of Physics and Astronomy to honor his commitment to secondary education.  The newly created "Frederick P. Longwell Memorial Scholarship" will allow future Boilermakers to obtain scholarships in perpetuity to help them create their own giant leaps.
Longwell, born in rural Pennsylvania in 1919, was the first in his family to attend college. He worked for two years after graduating from high school in upstate New York to afford a college education. Torn between the humanities and science, he made the choice to major in Physics and become a scientist. During his career as an optical engineer, he worked for multiple esteemed institutions such as Bell Labs, Hughes Aircraft, Martin Marietta, and Chrysler.
According to his family, he well understood the value of higher education.  He remembered with gratitude his four years at Purdue University and graduated in 1942.  He appreciated the ideals and economy of a land grant university. This life changing experience is an American value he would want to support for future generations.
While his career remained in science and engineering, his interests always bridged the chasm he identified as CP Snow's "two cultures," the divergence between science and the humanities in institutions of learning. His family lovingly refers to him as a gifted writer with a sharp wit and say that his interest in the classics ensured that his family embraced correct language and classic literature.
Frederick was a family man. He and his wife Margaret prioritized the education of their five children. Ted and Ruth Edmonds wanted to honor his commitment to education by setting up this endowment. This gift is greatly appreciated by the Department of Physics and Astronomy and will aid an untold number of Boilermakers prioritized their own education with supplementary funding.