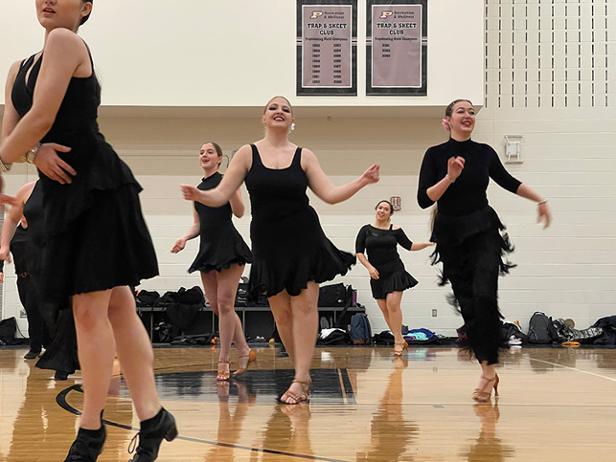 When science meets art:
Dance steps lead Physics and Astronomy students to their own giant leaps
Written by Cheryl Pierce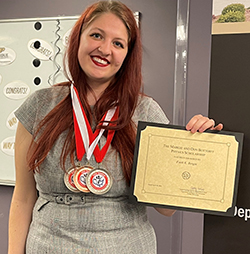 Who better understands the conservation of angular momentum than a ballroom dancer performing a series of spins in tandem with a partner?  That is a question posed by Faith Bergin, senior at Purdue University majoring in Physics with a Minor in Astronomy.  She says that a large majority of the dancers on the Purdue Latin and Ballroom Dance Team (PLBDT) come from STEM backgrounds.
"To dance is to use a new language to interact with and understand the world. I think it makes me a much more creative and well-rounded thinker," explains Bergin. "I find that dancing can give me a new perspective on certain physics problems. In my experience, many who are in the STEM fields enjoy a good challenge, and dance is a challenge to the body as science is a challenge to the mind. Dance is extremely fulfilling creatively, and I think that attracts a lot of people who want to explore what they can do outside of their careers and studies. And the bonus is that it helps me stay in shape. The exercise can serve as a great stress reliever during exam season and can help me clear my head if I am particularly stuck on a homework problem."
There are many students in Physics and Astronomy who enjoy dancing.  Aubrey Fuhrman, senior studying Physics, also finds that STEM students like her are drawn to dance.
"I think people in STEM are drawn to dance because it is an exciting way to both express artistry and stay healthy," she says. "Plus, there's no wrong way to do it! It's a great way to relieve mental and physical stresses, and it allows analytical thinkers an opportunity to branch out into more creative territories."
For students at Purdue, there are many avenues to explore the wide world of dance. Aubrey, who has chosen dance as a minor, studies dance through curriculum and competition. Students can also dance recreationally or competitively in student clubs, like Faith, who has now danced in over a dozen competitions while a student at Purdue. 
Student dancers at Purdue may have been taking dance lessons since they were two, like Aubrey, or never have taken a dance class before Purdue like Faith. At any level of dance, there is a place for students who wish to enjoy dancing at Purdue.
Faith had a background in theatre in high school but was seeking an avenue to meet friends and enjoy dance when she happened upon a poster callout for PLBDT during her first semester in Fall 2019 and decided to check it out. Taking this small step has changed the trajectory of her course at Purdue. She now practices four days a week and dances competitively with the club. She has learned 19 different styles of ballroom and Latin dancing, including the tango, foxtrot, cha-cha, samba, rumba, and more. Her favorites are the Viennese waltz, samba, paso doble, and quickstep. The PLBDT competed at Nationals over Spring Break (March 17-19, 2023) in St. Louis, Missouri and placed first. Currently, Purdue is the top collegiate ballroom team in the United States!
"As many freshmen do, I was looking for a fun club to get involved in and make friends. I thought, why not try dancing, something I've always wanted to learn. I went to the callout showcase and after seeing the head coaches of the team, Daniel Dilley and Dr. Yuehwern Yih, professor of Industrial Engineering, perform an amazing rumba, I joined. After attending my first competition at the University of Illinois Urbana-Champaign in September 2019, I fell completely in love. I have danced in over a dozen competitions across the Midwest, including Ohio Star Ball, the largest Dancesport Competition in the United States, and the 2022 National Collegiate Dancesport Championships in Pittsburgh. Our team also hosts the Purdue Ballroom Classic, the largest collegiate competition in the Midwest, every fall semester. Aside from competing, we also host social dances that are purely for fun. We also go on team outings, and after competitions, we go to team dinners to celebrate our hard work. I've truly found a family with PLBDT. Some of my best friendships in the world were formed through the team. I've been able to meet people from all disciplines and across the Greater Lafayette community. I've loved every second, and I'm terribly sad to have to leave when I graduate in 2024."
Faith is currently involved with astrophysics research and in the Time Domain Astrophysics group headed by Dr. Danny Milisavljevic, assistant professor of Physics and Astronomy.  After graduation, she plans to obtain a Ph.D. in Astrophysics and perhaps become a professor.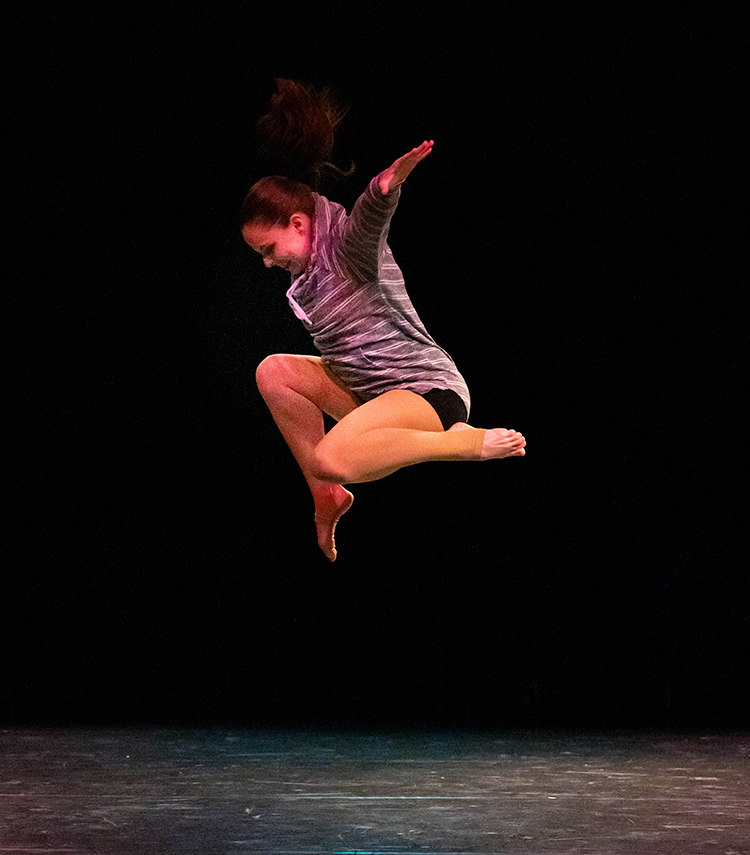 Aubrey was no stranger to dance when she came to Purdue.  In fact, she had been dancing from a very young age and was part of a competitive dance company for ten years prior to arriving at Purdue.
"I am a dance minor, so I take classes through Purdue's Division of Dance," she explains. "I have been and am currently involved in XSeries through the Dance Division as a dancer, choreographer, assistant director (2020-2021), and co-director (2021-2022). I have also been involved in Higher Ground Dance Company for 5 semesters. When I am not on stage, I help stage manage Purdue Contemporary Dance Company's Concerts (2021 Winter Works and 2022 Winter Works before finals week!)  I mainly study modern dance within the dance division. However, I am also trained in ballet, tap, improvisation, contemporary, jazz, and musical theater. Thankfully, at Purdue, there are so many opportunities for dancers and movers of every background. Even in the dance division, classes are open to people who have danced for 12 years or 12 days. I have made many friends through the groups I am involved in, and they are always excited to welcome new members. Newcomers can find new ways to learn about and express themselves through dance, and experienced dancers can find new challenges outside of their comfort zone."
Aubrey enjoys learning about sound waves and oscillations in her physics courses and plans to explore a career in Acoustic Consulting after she graduates. She said this field is about helping people understand and control the sound in their spaces or buildings.
Wherever a student starts in dance, there is a place for them to explore dance at Purdue. But what about those students who'd like to get involved but don't think they would be good at dance?  Aubrey says there is a place for those students as well.
"If you want to be involved in dance, but you prefer the production side of it, there are so many opportunities here, too," she says. "Some clubs look for stage managers, light and sound operators, designers, organizers, etc! Not to mention, being an attentive, exciting audience member is such an important role in the world of dance as well! It's a great way to be involved in the world of dance if being on stage isn't your forte."
When asked about their fondest memory of dance at Purdue, both Faith and Aubrey had the same thing to say.  It's simply too difficult to pick just one. 
"Ugh, there are so many!" says Aubrey. "One of my most recent dancing memories was performing a self-choreographed solo in front of about 300 people for Xperimental 2022. I also fondly remember the support and love from my fellow dancers when I co-directed 2 dance concerts during the 2021-2022 school year. I also really enjoy the Higher Ground Dance Company showings because everyone is so excited and supportive of other people's work."
"It is so hard to pick just one!," says Faith. "I would say some of my fondest memories happened during Ohio Star Ball. For the collegiate sector, there is a portion of the competition known as Team Match, where one couple from each university is chosen to represent the school in 8 different dances (so 8 couples total) and compete to see which school comes out on top. I was chosen to dance the Team Match Samba with my dance partner. I was so nervous that I had to represent PLBDT! Once I stepped on the floor and the music started playing, I just got lost in the dancing and had so much fun! Everyone was cheering for me and I danced my heart out. Later on, when the awards were given out, Purdue got 2nd place out of over a dozen schools represented! It was so awesome to be a part of the team and celebrate that win with everyone who danced and with the whole team."
Is there a connection to small dance steps taking STEM students to giant leaps at Purdue University? There appears to be supporting evidence that says yes.