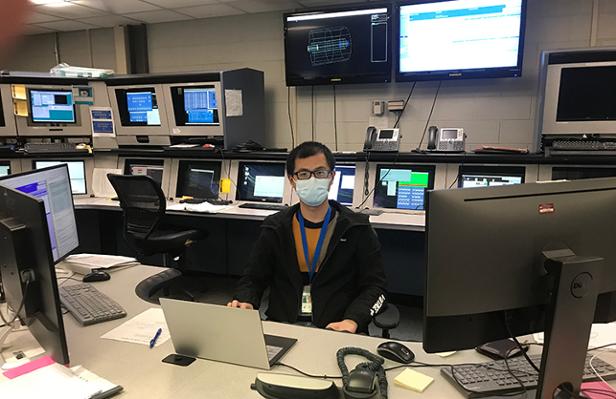 Student Spotlight: Yicheng Feng
Enjoyment of basic physics grows into frontier research
Story by Cheryl Pierce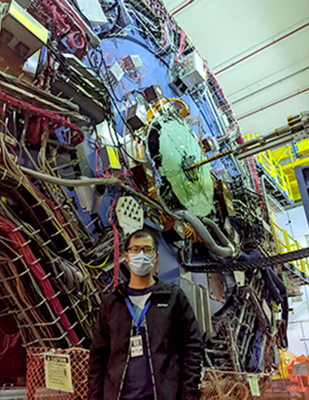 Graduate student Yicheng Feng had a dream to work on one of the frontiers of physics research: high energy nuclear physics (HENP). When asked what made Feng interested in this particular course of study, he said that impressions were made all the way back in high school and progressed from there. It was a mix of his love of physics and mathematics coupled with exciting news happening at CERN that really piqued his interest.
"When I was a high school student, physics was my best subject and math was the second," says Feng. "I gained confidence and naive interest in physics during that time. After I was admitted to USTC (University of Science and Technology of China) as an undergraduate, I chose physics as my major. In 2013, the Higgs boson research in CERN received the Nobel prize, which drew my attention to the high energy physics field. USTC has a great environment of high energy physics because it collaborates with many experiments like BESIII, ATLAS, CMS, and also STAR. I therefore had the chance to conduct my bachelor thesis research on this field, involved in the BESIII experiment. After that, I chose Purdue so that I could continue research with the STAR experiment."
Currently, Feng, a PhD student, is studying with his advisor, Dr. Fuqiang Wang, Professor of Physics and Astronomy at Purdue University. According to Feng, the Department of Physics and Astronomy at Purdue has a great HENP group which collaborates closely with the Solenoid Tracker at RHIC (STAR) experiment which is why he wanted to apply to this program.
"In the experiments for HENP, the nuclei (also called heavy ions) are collided with each other in colliders like Relativistic Heavy-Ion Collider (RHIC). In those collisions, part of each nucleus is destroyed, and new particles are created from the collision zone. Detectors like STAR can measure those newly produced particles and the residual nuclei fragments at the final state.  Some theorists in this field predicted that the possible parity symmetry breaking in strong interactions can lead to a special phenomenon, called the chiral magnetic effect (CME), in those heavy-ion collisions. To search for that, my job is to analyze the STAR collision data, do model simulations, and take shifts to operate the STAR detector."
Working within this group has provided Feng the opportunity to publish multiple times as a graduate student, many times as the first author listed.  Those publications include:
Y. Feng, Y. Lin, J. Zhao and F. Wang, "Revisit the chiral magnetic effect expectation in isobaric collisions at the relativistic heavy ion collider", Phys. Lett. B 820(2021)136549
Y. Feng, J. Zhao, H. j. Xu and F. Wang, "Deciphering the R correlator in search for the chiral magnetic effect in relativistic heavy ion collisions", Phys. Rev. C 103(2021)034912
Y. Feng, J. Zhao and F. Wang, "Back-to-back relative-excess observable to identify the chiral magnetic effect", Phys. Rev. C 101(2020)014915
Y. Feng, J. Zhao and F. Wang, "Responses of the chiral-magnetic-effect-sensitive sine observable to resonance backgrounds in heavy-ion collisions", Phys. Rev. C 98(2018)034904
H. j. Xu, J. Zhao, Y. Feng and F. Wang, "Importance of non-flow background on the chiral magnetic wave search", Nucl. Phys. A 1005(2021)121770
J. Zhao, Y. Feng, H. Li and F. Wang, "HIJING can describe the anisotropy-scaled charge-dependent correlations at the BNL Relativistic Heavy Ion Collider", Phys. Rev. C 101(2020)034912
H. j. Xu, J. Zhao, Y. Feng and F. Wang, "Complications in the interpretation of the charge asymmetry dependent pion flow for the chiral magnetic wave", Phys. Rev. C 101(202)014913
It is a bold step for Feng, an international student, to travel to another country for the pursuit of education, which of course came with some challenges. The language barrier was a challenge according to Feng, but with the help of Purdue community and the PLaCE program, he was quick to overcome this obstacle.
"When I first came to Purdue, I couldn't speak English well. The daily talks like buying a pizza could be difficult for me. Purdue provides an English course for international students. I attended that course for one semester, and my English improved a lot during that time. I really appreciate the help from my English teacher and tutor in that course.  After that, I think the language barrier was overcome."
Feng is very close with his family which was another challenge. Thankfully, technology allows him to keep in touch. "Family is one of the most important parts of my life. My family is very supportive to me and my academic pursuit. But, they miss me a lot, so we have a video call every week."
Today, my naive interest in physics has grown up into frontier research," says Feng, "and I will keep moving forward.
Next steps for Feng include pursuing his research further after his degrees are achieved. He plans to continue his research in this field and hopes to become a post-doc within the HENP group at Purdue.