Scholarship Endowment Spotlight: The Professor Ralph Lefler Memorial Scholarship Endowment
Professor's dedication elevated the state of Physics education
Story by Cheryl Pierce
Published March 01, 2022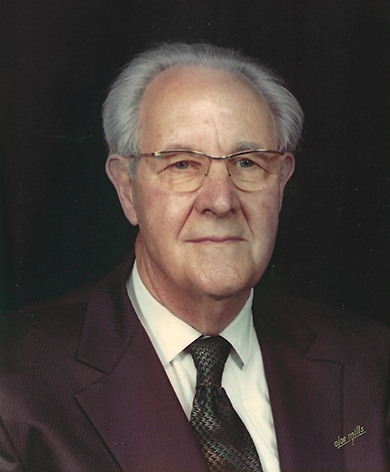 Professor Ralph W. Lefler's education began in a one room eight-grade school house in rural Indiana.  Through his tenacity, he elevated his own education which enabled him to be a Professor of Physics at Purdue University.  He described the teachers he encountered in his early education as good, earnest people and noted that his interest in physics grew out of a science class in his high school.
"My interest in physics grew out of a one-year study of the subject, the only science other than general science offered," he wrote in a retrospective about his life's work.  "I am certain that our teacher never had a college course in physics, but, he was an intelligent person who could give us some insight into the subject.  There were no demonstrations and no lab work.  Our equipment consisted of a meter stick and a candle.  However, my interest in physics was born in this class."
He began his teaching career in one of the same one-room schoolhouse he had once attended.  It ignited a passion for teaching which eventually led him to Purdue University's Physics and Astronomy department.  Though his education took him many directions, it always impressed upon him that high school teachers weren't given the proper tools and education to teach physics, and if the United States was to stay at the forefront of Physics, high school teachers would be the stepping stone to getting students to want a college education in Physics. 
Fast forward to 1960, Professor Lefler was in charge of a National Science Foundation (NSF) program that ran through 1974 called the Master's Degree Physics Summer Program.  Lefler ran this program through 1971 and his input benefited roughly 200 Physics Alumni.  The summer program recognized that high school science teachers needed more education and resources with specific regard to physics.  Lefler retired in August of 1971 and passed away in June of 1995, but his immeasurable impact lives on through his students. 
A group of these students from the Master's Degree Physics Summer Program wanted to honor their mentor and friend so they started the Professor Ralph Lefler Memorial Scholarship Endowment so that Lefler's legacy would be impacting students at Purdue in perpetuity.  This endowment allows for scholarships to be given to students in the department of Physics and Astronomy who have an interest and focus on teaching physics. 
One of his students, James Jennings, credits Lefler for changing the course of his professional life.  He says that Lefler continued to offer assistance to his professional career even after Jennings graduated from the summer program. 
"Between the first summer and the second summer, Professor Lefler called me … and said 'Look, there is a great opportunity in Northwest Indiana in a place called Munster, Indiana,'" Jennings said. "He convinced me to move from Texas to Munster, IN. … it changed my life. And Lefler did a lot more things for me other than that.  He was a tremendous influence on my life and the life of 200-300 other people who participated in this program."
His students not only established this endowment, they passed on their thoughts about Lefler and how each of their lives were forever changed for the better because of the education they received at Purdue and due to Lefler's impact.  This endowment is open for additional donations.  Friends and alumni who would like to add to the endowment and assist students at Purdue, can do so here.
Friends and alumni who would like to add to the endowment and assist students at Purdue CAN DO SO HERE
.
To sum up Lefler's impact on the Physics education would be exceedingly difficult because his persistent pursuit of educating the educators flows out into so many directions. So, this article concludes with the words of the Purdue alumni who created this endowment, each of whom were greatly impacted by Lefler's passion for physics education.
Professor Lefler was a kind and caring man who made all of us … appreciate the joy of teaching physics. - Richard Born, MS 1972

Professor Lefler created a very welcoming atmosphere and was very supportive of me when I needed some encouragement that first summer. His goal was quite clear: to improve the quality of physics instruction in the US by fostering better prepared physics teachers. He did just that.  - Donald Cope, MS 1972

He appreciated hard work and provided direction so that energies were used to most advantage. Ralph was an organizer and put together a wonder team of professors that had heart, dedication, love and caring to help get us through some tough times. - Aaron Feik, MS 1972

There are three people who served as key mentors in my life, the first being Professor Ralph Lefler with Purdue University. How important was Ralph? If I had not met Ralph and benefited from his help and counsel, I would never have met the other two. - Jim Jennings, MS 1967

He showed his true love of learning by his passion for teaching and advising young graduate students. He prompted students to become educated as well as trained. He made us all feel that we were meant to use the education we received at Purdue for the benefit of our society over benefit for ourselves. He was a Teacher, a Mentor and a fine human being. I will always remember him and thank him for his friendship and guidance. - Jim Karagianis, MS 1972

This opened an opportunity that would otherwise not been available to many of us. Personally, it made a great difference in my career because the degree allowed me to finish my teaching career at our local community college. - John McGuire, MS 1972

During the time I attended… he was always available and willing to help out. Again, the emphasis was on quality and thoroughness, which was his standard. God blessed all of us with Professor Lefler. - Steve Sharpee, MS 1972