Sergei Khlebnikov
NOTE: E-mail addresses end with @purdue.edu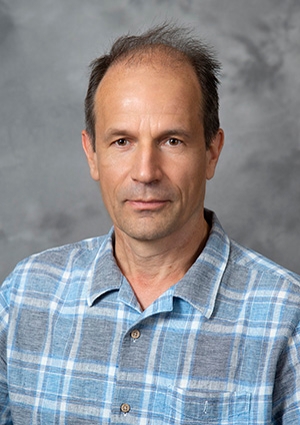 M.S., Physics, Moscow State University, 1985
Ph.D., Physics, Institute for Nuclear Research of the Academy of Sciences, Moscow, Russia, 1988
Research Interests
elementary particle theory, cosmology, and quantum field theory.
Awards and Honors
University Faculty Scholar, (Purdue) 2001-2006
National Science Foundation, Faculty Early Career Development (CAREER) Award 1995-1998
U.S. Department of Energy, Outstanding Junior Investigator Award 1994
Alfred P. Sloan Foundation, Fellow 1994-1998
Professional Experience
Professor of Physics, Purdue University 2002-present
Associate Professor, Purdue University 1998-2002
Assistant Professor, Purdue University 1993-1998
Julian Schwinger Postdoctoral Fellow, UCLA 1991-1993
Junior Researcher, Institute for Nuclear Research, Moscow 1987-1991
Selected Publications
S. Khlebnikov, Quasiparticle scattering by quantum phase slips in one-dimensional superfluids, Phys. Rev. Lett. 93, 090403 (2004).
S. Khlebnikov and I. Tkachev, Relic gravitational waves produced after preheating, Phys. Rev. D 56, 653-660 (1997).
S. Yu. Khlebnikov and M. E. Shaposhnikov, The statistical theory of anomalous fermion number non-conservation, Nucl. Phys. B308, 885-912 (1988).
Last Updated: Jul 25, 2023 9:55 AM