John Peterson
NOTE: E-mail addresses end with @purdue.edu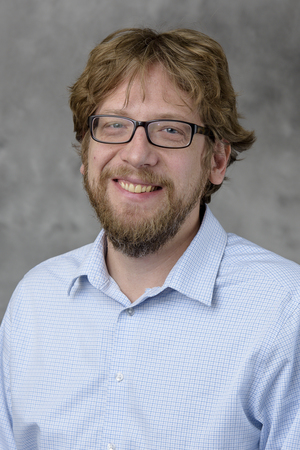 Education
B.A., Physics, University of Chicago, 1997
M.A., Physics, Columbia University, 1999
M.Phil., Physics, Columbia University, 2000
Ph.D., Physics, Columbia University, 2003
Professional History
2012 - Associate Professor, Purdue University
2006-2012 Assistant Professor, Purdue University
2003-2006 Postdoctoral Research Associate, Stanford University/SLAC
1997-2003 Graduate Research Assistant, Columbia University
Research Interests:
Observational Cosmology: Studies of Dark Energy and Dark Matter
Optical Astrophysics Simulation
The Large Synoptic Survey Telescope (LSST)
Gravitational Lensing of Clusters and Large Scale Structure
High Resolution X-ray Spectroscopy
X-ray Emission from Clusters of Galaxies
Cooling Flows in Clusters of Galaxies
Surveys of Clusters of Galaxies
The Chandra and XMM-Newton X-ray Observatories
Optical and X-ray Astrophysics Instrumentation
The X-ray Monte Carlo (XMC) code
Advanced Multivariate Monte Carlo Data Analysis Techniques
Selected Refereed Publications
"Sensor Distortion Effects in Photon Monte Carlo Simulations", J. R. Peterson et al. 2020, ApJ 889, 182.
"Deformation of Optics for Photon Monte Carlo Simulations", J. R. Peterson et al. 2019, ApJ 873, 98.
"Simulation of Astronomical Images from Optical Survey Telescopes using a Comprehensive Monte Carlo Approach", J. R. Peterson et al. 2015, ApJS 218, 14.
"

Characterization of Intracluster Medium Temperature Distributions of 62 Galaxy Clusters with XMM-Newton", K. Frank et al. 2013, ApJ 764, 46.

"

Evidence for Nonlinear Growth of Structure from an X-Ray-Selected Cluster Survey using a Novel Joint Analysis of the Chandra and XMM-Newton Archives", J. R. Peterson et al. 2009, ApJ 707, 878.

"X-ray Spectroscopy of Cooling Clusters", J. R. Peterson & A. C. Fabian 2006, Physics Reports 427, 1.
"Smoothed Particle Inference: A Kilo-Parametric Method for X-ray Cluster Modeling", J. R. Peterson, P. Marshall, & K. Andersson 2007, ApJ 655, 109.
"Multivariate Monte Carlo Methods for the Reflection Grating Spectrometer on XMM-Newton", J. R. Peterson, J. G. Jernigan, & S. M. Kahn 2004, ApJ 615, 545.
"High Resolution X-ray Spectroscopic Constraints on Cooling-Flow Models for Clusters of Galaxies", J. R. Peterson et al., 2003, ApJ 590, 270.
"X-ray Imaging Spectroscopy of Abell 1835'', J. R. Peterson et al., 2001, A&A 365, 101.
Last Updated: Aug 18, 2023 1:26 PM