QuarkNet MasterClass
MasterClass is a way for Quarknet high school teachers to share their enthusiasm for cutting edge science research and expertise with their own students. Purdue Physics and Astronomy Outreach hosts teacher led teams for a whole day of engaging activities where students will examine actual image data from CMS cosmic ray research at CERN first hand. Students engage with researchers and staff, tour available labs and meet others with similar interests from around the world!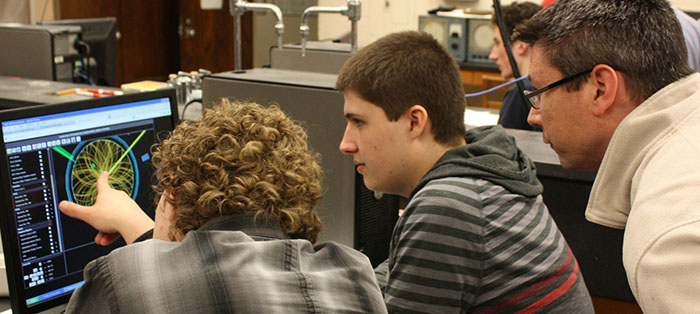 In the morning session, students will learn about the components of the CMS detector and how to pick out identifying characteristics of particles from event data. This is a great opportunity for students to learn about cutting edge research and engage with those doing it!
After a leisurely lunch and guest talk, a lab tour just may be in order, choosing from our CMS detector fabrication clean room, laser research labs, Prime Lab particle accelerator, or PUR-1, Purdue's very own nuclear reactor research lab, the only operating nuclear reactor in the state of Indiana.
The afternoon session culminates with teachers and their students participating in a live video conference with high school students and researchers from other QuarkNet centers from the U.S. or other countries.

Quarknet MasterClass is held annually in February or March, and is open to high school teachers participating the QuarkNet program, just one of the perks for Quarknet Summer Institute at Purdue!
What High School Students Say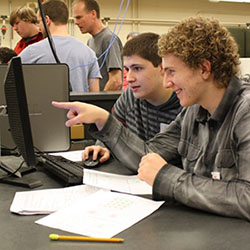 "Not only did it [MasterClass] introduce me to an exciting new college scene, but it also introduced me to intelligent people, who have a desire to participate in activities concerning particle physics as I do. It was informative - and even exciting - how we spoke about what we were going to look at and determine through observing electronic diagrams. We looked at various similar yet classifiably different diagrams and determined what exactly they were using only a set of notes we established earlier and our wit! It was awe inducing to work and compare results with other students my age on the same project, from across the country. As a junior in high school, I have considered taking general physics in college, and this course gave me some experience that will help me decide how to consolidate on what kind of physics I would like to accomplish working with. I will recall this experience for years to come, and look forward to more like this one." Brenden Everett, Roncalli High School, Indianapolis
"One of the most memorable things of the project was how when we had conflicting data (such as two muons and one electron) and no one would know what to classify the collision as. This showed me how even today physicists are still seeking answers to events at subatomic size. I gained a lot from the Quarknet MasterClass, and I hope I can do more things like it next year." Nicholas Marine, Roncalli High School, Indianapolis
For additional information about MasterClass, or other QuarkNet programs, please contact:
Dr. David Sederberg
Purdue University Physics and Astronomy Outreach
Email: dsederbe@purdue.edu
Last Updated: Apr 8, 2020 3:56 PM