Tongcang Li Named 2023 Moore Foundation Experimental Physics Investigator
2023-08-23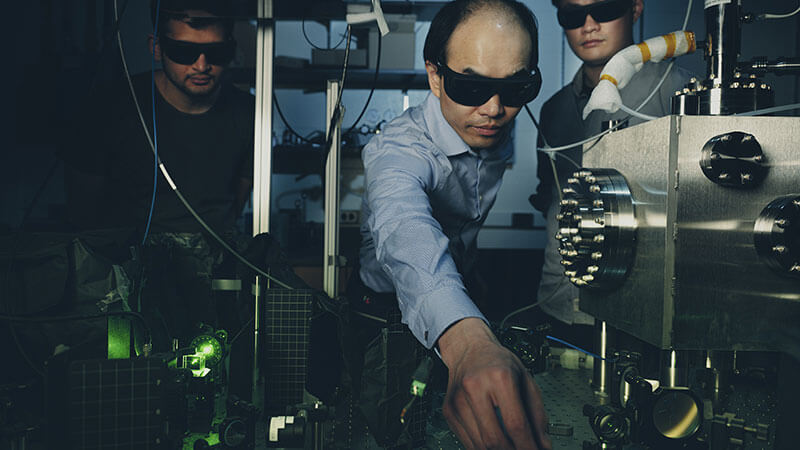 WEST LAFAYETTE, Ind. – Tongcang Li, a Purdue University professor of physics and astronomy and electrical and computer engineering,  has been named to the 2023 cohort of Gordon and Betty Moore Foundation Experimental Physics Investigators. The honor, which includes a $1.25 million grant over the next five years, is intended to address gaps in the funding landscape in the United States that limit the rate of discovery in the physical sciences.
This award provides pivotal support to transform the research on spin qubits in two-dimensional materials and significantly bolsters the vibrant team led by Li.
"I congratulate Professor Li on being named a Moore Investigator," said Gabor Csathy, head of the Purdue University Department of Physics and Astronomy. "In the nine years since Professor Li joined Purdue, he has done incredible work in advancing our understanding of quantum systems. This distinction is a rightful recognition of his innovation and leadership in research."  
Li's research focuses on the use of nuclear spin as the foundation for quantum applications, drawing on recently discovered spin defects in two-dimensional materials as quantum interfaces to detect and control nuclear spins. His work could pave the way for the development of two-dimensional platforms capable of atomic-scale quantum sensing, large-scale quantum simulations, and the establishment of spin-photon quantum interfaces for advancing quantum communications. Li is also a member of the Purdue Quantum Science and Engineering Institute.
According to the Moore Foundation, Experimental Physics Investigators awards select and support outstanding individual investigators who are advancing cutting-edge research in experimental physics that improves scientific understanding of the natural world. The initiative also hosts convocations and fosters collaboration that will lead to new discoveries.
The Gordon and Betty Moore Foundation fosters path-breaking scientific discovery, environmental conservation, patient care improvements and preservation of the special character of the San Francisco Bay Area.
Writer/Media contact: Mary Martialay, mmartial@purdue.edu
Source: Tongcang Li, tcli@purdue.edu
Last Updated: Aug 23, 2023 4:09 PM