Students of Physics award outstanding faculty
2020-05-12
Writer(s): Cheryl Pierce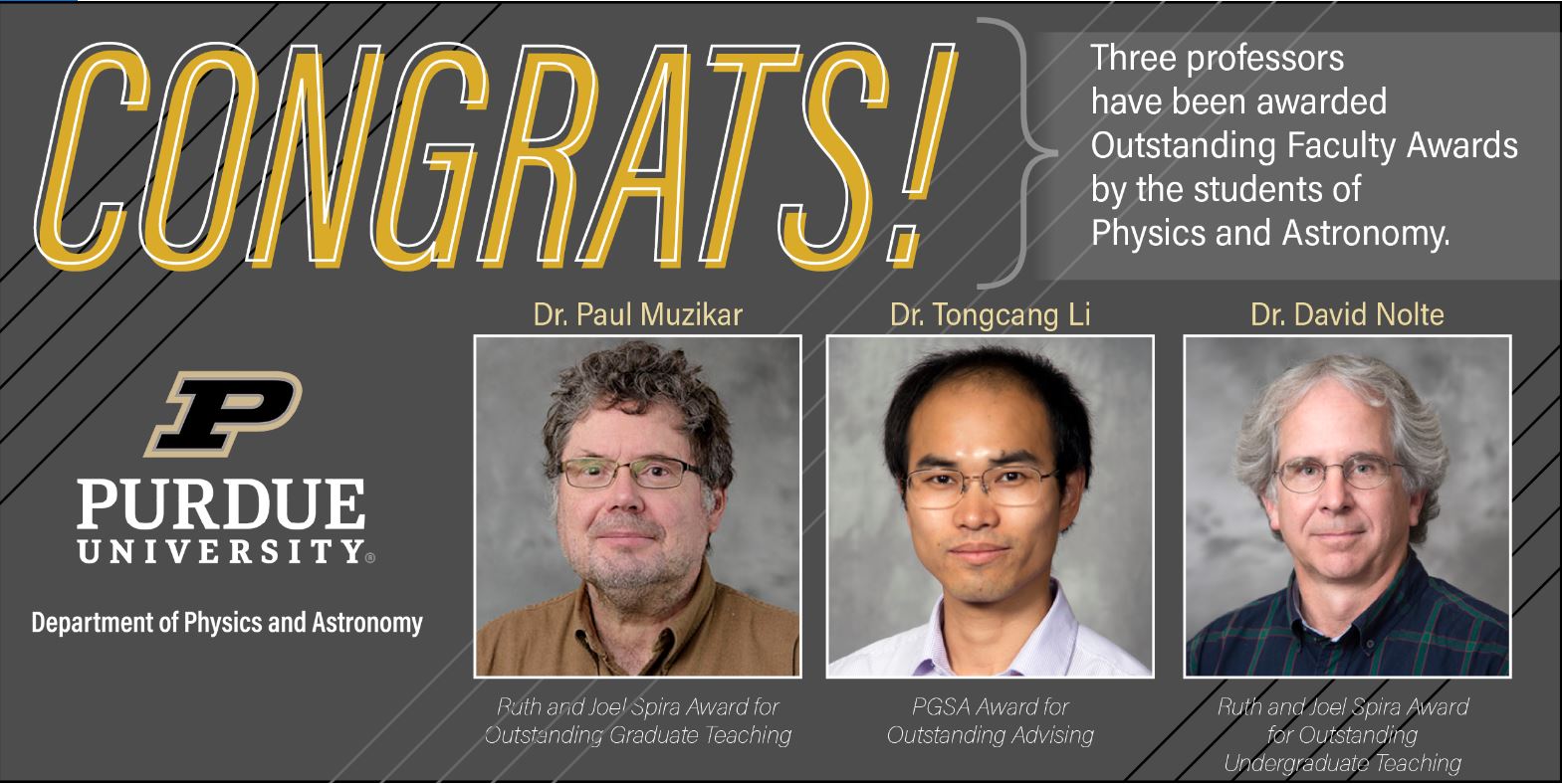 The Purdue Graduate Student Association (PGSA) has selected their 19-20 outstanding faculty awards.  The PGSA  is a student organization for graduate students in Physics.  They host social gatherings, meet regularly with John Finley, department head of Purdue Department of Physics and Astronomy. 
Riddhi Mehta, president of the PGSA, explains the selection process as a two part process including nominations and a vote.  In the event of a tie, she would cast the deciding vote.  "First, the PGSA calls for nominations from graduate students of the department, where they can nominate any faculty they feel deserves the award based on their experience working with them as a research student, taking a course with them, or based on general popularity. They can also submit a short paragraph stating the reason they deserve the award. Collecting nominations and votes for 2 years now, I would say the reasons that describe why a faculty is deserving of the award and their place on the 'popularity meter' within the department play a huge role in deciding the winners."
The PGSA has awarded the Ruth and Joel Spira Award for Outstanding Graduate Teaching to Dr. Paul Muzikar.
"I have taken two thermodynamics/stat mech courses before," said a comment from the selection process about Dr. Muzikar.  "I've never had such a good grasp on the subject matter as I have after taking PHY 617. This course made me see stat mech in a different light. Despite teaching from a pretty terse book like Landau Lifschitz, Prof. Muzikar made the subject matter extremely easy and accessible. And above all he made us see the fun parts apart from going into the nitty-grittys which I feel should be the aim of any course leading into research."
The PGSA Award for Outstanding Advising has been awarded to Dr. Tongcang Li.  
"Professor Li is dedicated to bring inspiring ideas and discuss new ideas with his students," said a comment from the selection process. "He gives his students a lot of freedom on research and encourages them to work on their projects independently at the same time also provides enough advice when students face problems. He loves to spend time with his students while doing experiments together and giving guidance on some details in the experiment which is extremely helpful."
Undergraduate students of Physics have also chosen the Ruth and Joel Spira Award for Outstanding Undergraduate Teaching.  They have named Dr. David Nolte as this year's award winner.
These awards are selected for each calendar year by the Physics students. 
Last Updated: Mar 30, 2023 2:22 PM