Purdue graduate rolls dice on an unexpected career move
2020-07-31
Writer(s): Cheryl Pierce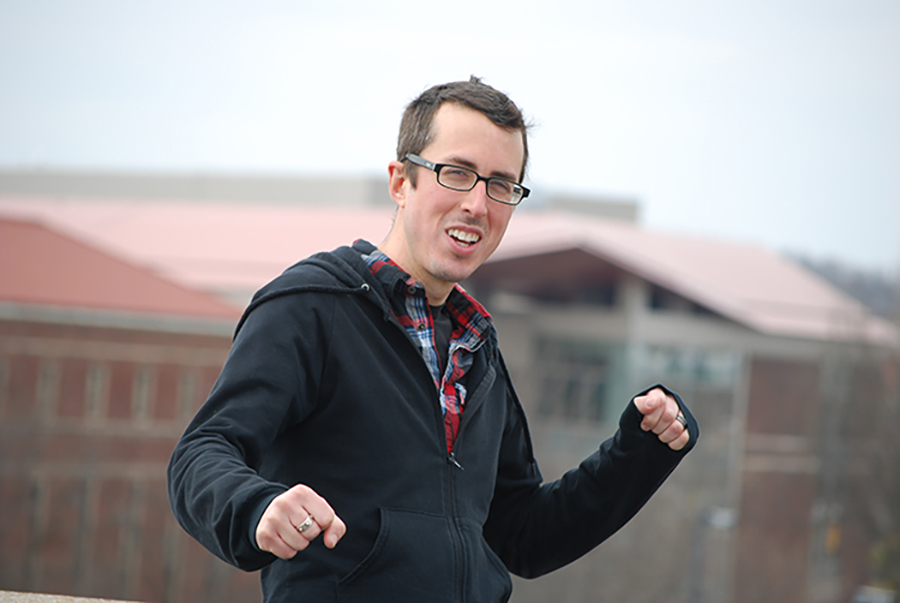 Photo by Kristyn Childres
One of the biggest names in tabletop board games is a Purdue Physics and Astronomy alumn.  Isaac Childres graduated with a doctorate in physics in 2014 but his career route took an unusual turn. While working on his doctoral thesis, "Effects of energetic irradiation on materials and devices based on graphene and topological insulators," Childres was also working on a side project.  He had always enjoyed tabletop games and was working on creating a tabletop game called Forge War.  This side project has grown to one of the largest Kickstarter campaigns for tabletop games and an entire series of hugely successful and popular games.  Childres is the founder of Cephalofair Games which boasts hugely successful game titles including Forge War, Gloomhaven, Frosthaven, and most recently Gloomhaven Jaws of the Lion.  Jaws of the Lion is one of the first games of its type that is available at Target stores.  It was sold out of stock almost immediately on the Target site and in store which may be an indicator that big box stores will carry more complex tabletop games in the future.
Childres fostered his love of games at a weekly tabletop gaming group, Lafayette Game Night held at the Purdue Union.  It was at these meetings that game enthusiasts first were introduced to Forge War.  Pictured is an early prototype of the game that Childres had play testers, game enthusiast who serve as focus groups, analyze and critique to help him hammer out any issues with the gameplay.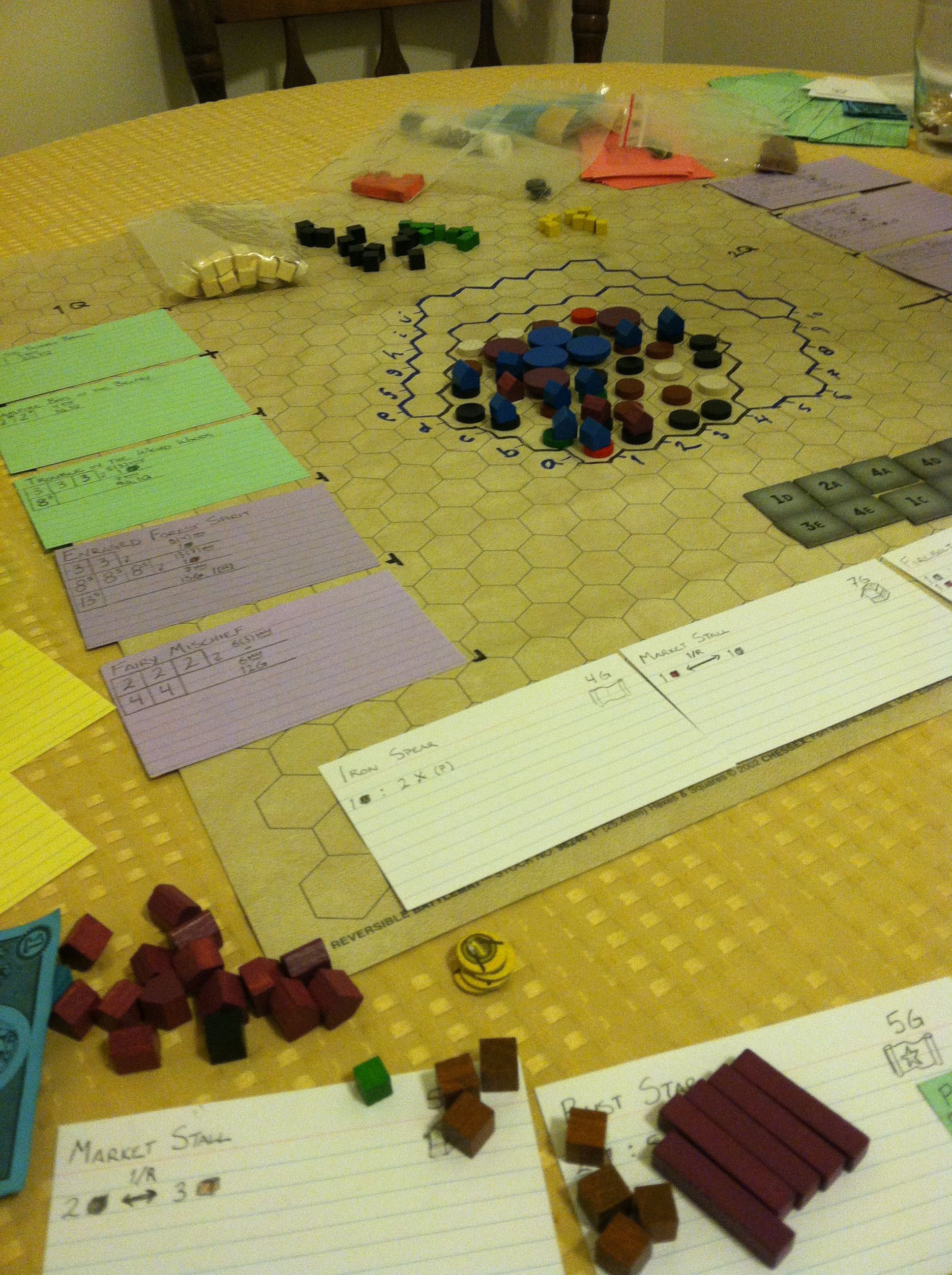 Forge Wars photo courtsey of Lafayette Game Night
One of the group's organizers, Jeff Millier, said Childres was in attendance almost every week and always came with a heavy bag of board games for the group to play.  Millier said Childres always made the group more fun with antics and imaginative story telling. Once, on Halloween, he even dressed up as the character from the front of the Power Grid box. 
"There was a running joke," says Millier, "that if you are playing a game with Isaac, then you're really just competing for second place because he's generally really good at games.  I played in a Dungeons and Dragons campaign for a while where he was the Dungeon Master and he was fantastic at that too.  He's a good storyteller and he made some really neat puzzles to figure out."
With Cephalofair's game library, storytelling is an especially important aspect of production.  Each has a unique story line, cast of characters, and physical realm.  They also typically have a detailed rule book that will be heavily critiqued by future players. Childres says that he drew on his academic background for this critical detail in his games.
"Writing academic journal papers, you have to have to be very precise in language," says Childres.  "This is similar to writing rule books for games.  For game creation, the main advantage of the process of gaining a Physics PhD is that it is so similar to the play testing process. The thought process is that you test and redo over and over again.  Because of this testing, your vision of the game may change over time."
Writing and publishing was a huge part of Childres academic life.  According to his advisor, Dr. Yong Chen, the Karl Lark-Horovitz Professor of Physics and Astronomy, Childres was quite a successful physicist.  He is still pictured on Chen's lab website. 
According to Chen, "Isaac transferred to my lab from a different research field but ended up doing a productive PhD and published several papers (some of them are quite well cited now) on radiation effects in graphene studied by electrical and optical measurements – while at the same time continuing pursuing his passion in board game designs (including taking a year off to work on his newest games).  It is good to see his great success in the board game community and launching his business."
When asked if Childres plans to work with physics in the future, he says, "this chapter in my life has ended."  But when asked if there may ever be a physics based board game, the story is just beginning.
"Last year, I started working on an independent project to publish that was loosely based on physics," says Childres.  "It has a more sci-fi premise where lab workers work together to open a parallel universe.  In this game, you'd work with your mirror self to close the rift and then write an academic paper.  It is in the works but there's not a lot of time to put into it right now.  I plan to revisit it next year."
One aspect of Childres' games that is unexpected is that there is a single player mode.  You can play any of the games solo.  You can also, of course, play them with a group.  Given the current pandemic, solo player games could be especially popular given that everyone has been living more isolated existences.  
"Sales definitely spiked with the pandemic hit," says Childres.  "And single player is a separate market for tabletop gaming.  The appeal is larger than some publishers realize."
NPR speaks of the rise of popularity of tabletop games during the pandemic and cites Childres' upcoming game Frosthaven's huge success on Kickstarter. "Today, it is the most-funded board game on the site ever," according to the article 'A look into the wild economy of tabletop board game funding.'   The article goes on to state that, "Frosthaven's success seemed to exemplify a shift that has been happening in the tabletop gaming community for years: toward games that are not only focused on strategy and adventure, but also a new type of funding model where fans have more say than ever in which games move from the idea stage to their living rooms. And hobbyist tabletop games are a different breed of entertainment altogether." 
To learn more about Cephalofair's gaming library, check the company website. Also, keep an eye on Kickstarter for future games. The latest Kickstarter game, Frosthaven, had over 83 thousand backers so Childres says that he will continue to use this community to produce games.
To learn more about Childres and his tabletop game library, there are endless possibilities.  His games are featured on multiple YouTube channels, too many to count or mention. His biography is listed on Cephalofair Games website. He is featured on popular game podcasts like Rolling Dice and Taking Names, Nerdlab, and One Board Podcast.  If there are any questions left unanswered, count on Reddit to resolve any remaining questions. Childres has taken part in a couple Reddit Ask Me Anythings (AMAs) which can ben viewed here and here.  The Department of Physics and Astronomy at Purdue University is proud to count Childres as an alumn and looks forward seeing future successes in his tabletop gaming empire.
Last Updated: Jul 25, 2023 3:08 PM