Prof. Lang featured on 'Through the Wormhole with Morgan Freeman'
2014-07-14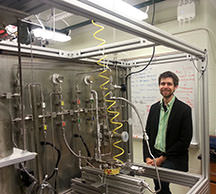 Purdue University physics professor Rafael Lang will be featured in an episode of "Through the Wormhole with Morgan Freeman," using his expertise to shed light on dark matter for millions of viewers.
The episode "Is There a Shadow Universe?" will air at 10 p.m. Wednesday (July 16) on the Science Channel and explores dark matter theories and research.
Lang, an assistant professor in the Department of Physics and Astronomy, builds and runs detectors to search for signatures of dark matter.
"We can't see dark matter and no one knows exactly what it is, yet we do know that it has mass and that its gravitational force keeps our Milky Way together," Lang said. "Our galaxy rotates like a merry-go-round, but it is spinning at incredibly fast speeds. What keeps the planets and other objects from flying off in different directions is gravitational pull. When we calculate the gravity of every mass we know, it is nowhere near enough force to keep the galaxy together. Dark matter is what makes up the difference."
As the Earth moves through space, it ploughs through the dark matter on the way. Lang is part of a team of scientists trying to build a net that can catch some of it. The international team's projects are called the XENON100 and XENON1T collaborations.
The "net" in Lang's detectors is the noble gas xenon, which is kept liquid in a stainless steel container. The detector is equipped with electronics that can detect individual electrons and photons. This high sensitivity is needed to detect the weak signals expected from dark matter, Lang said.
The detector is buried in the largest underground laboratory in the world, the Gran Sasso National Laboratory in Italy. The laboratory was built under the tallest mountain in the region. Nearly one mile of rock shields the detector from radiation, which would create background noise and muddle a signal from a dark matter interaction.
Last Updated: May 4, 2016 4:33 PM