Purdue-led team solves one of the moon's mysteries
2013-05-30
Writer(s): Elizabeth Gardner, 765-494-2081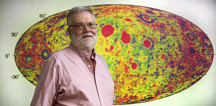 A mystery of the moon that imperiled astronauts and spacecraft on lunar missions has been solved by a Purdue University-led team of scientists as part of NASA's GRAIL mission.
Large concentrations of mass lurk on the lunar surface hidden like coral reefs beneath the ocean waves - an unseen and devastating hazard. These concentrations change the gravity field and can either pull a spacecraft in or push it off course, sealing its fate to a crash on the face of the moon.
"In 1968 these mass concentrations were an unwelcome discovery as scientists prepared for the Apollo landings, and they have remained a mystery ever since," said Jay Melosh, a member of the Gravity Recovery and Interior Laboratory, or GRAIL, science team who led the research. "GRAIL has now mapped where they lay, and we have a much better understanding of how they developed. If we return to the moon, we can now navigate with great precision."
A better understanding of these features also adds clues to the moon's origin and evolution and will be useful in studying other planets where mass concentrations also are known to exist including Mars and Mercury, said Melosh, who is a distinguished professor of earth, atmospheric and planetary sciences and physics.
Last Updated: May 4, 2016 4:23 PM