Roger Boyce of physics outreach retires after 17 years on the road
2009-09-03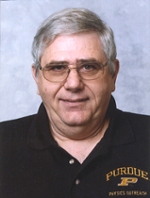 Roger Boyce has enjoyed the physics and the teaching — and the showmanship — in 17 years demonstrating scientific marvels in Physics on the Road/Physics Fun Fest.
He and his audiences, which are usually schoolchildren, like the "instant gratification," says Boyce, who will retire in September.
"I feed off their energy," he says. "I'm an entertainer. I really can't teach anything in an hour. Hopefully I can inspire young minds. Teachers often say the kids show more interest after they've seen the show."

In a typical year, he has made around 70 visits to schools around Indiana, sometimes doing multiple shows in one visit, and seeing about 30,000 children. That doesn't count the occasional television appearance — in 1995, he went national on the Fox morning show.

On the professional level, he says, "I've done workshops all over the country helping universities create a program on Purdue's model. People from Canada, South Korea and Africa have come to Purdue for that, too."

The format is tried and true. He uses much the same group of demonstrations he had when he took over the fledging road show in 1992, including:
Air pressure from a fire extinguisher shoots a pencil through plywood.
A vortex generator shoots a ring of air that extinguishes a flame 30 feet away.
A vacuum chamber containing a marshmallow astronaut shows the effects of removing air (marshmallows double in size) and reintroducing air (crushing marshmallows to half normal size).
Bill Walker, director of K-12 outreach for the College of Science, says, "Roger has excited and encouraged thousands of students. I've gone to shows and watched the amazement on the students' faces.

"But he doesn't leave it as science as a mystery, which can put people off. He spends time telling what's happening and showing that science is something they do."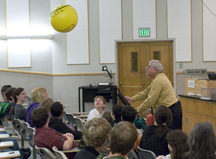 "Roger's been a cornerstone in the Physics Department and Science outreach."

That wasn't in Boyce's mind when he came to Lafayette in 1969.

After finishing service in the Air Force, he brought his 2-month-old daughter to town to see her grandparents and stayed because the baby got sick. He started at Purdue in lab checkout and became lecture hall manager in 1973.

The first public physics show came in 1988, and it started going on the road in 1990.

Outside work over the years, Boyce has played bass in several bands, become an "independent investor" and with his wife, Carolyn, raised a family.

Retirement won't necessarily mean having a lot less to do. Boyce earned a teaching license in February and could be a substitute. There are projects at home in Frankfort and the lure of travel around the United States and to Costa Rica. Carolyn thinks he has a novel in him.

He likes to "keep moving," he says. It's in his style as he gives a demonstration, using hands and voice and eye contact at a pace that keeps the youngsters involved. And their invariable response of wonder mirrors his knowledge that old things and new things have a place.

"The kids haven't changed," Boyce says. "The concepts are still amazing to them."
Last Updated: May 4, 2016 4:07 PM