Demos: 7A-11 Coin Illusion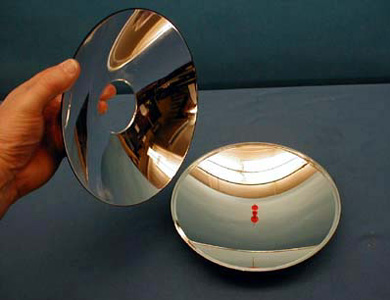 A commercial apparatus consists of two concave mirrors, axes vertical, with their concave sides facing each other. The upper mirror has a small hole at its center. If a small object, such as a coin, is placed in the bottom of the lower mirror, its real image appears in the hole of the upper mirror.
The two mirrors' curvatures are such that the coin is at the focal point of the top mirror, causing the reflected rays to emerge from that mirror parallel, whereas the hole in the top mirror is located at the focal point of the bottom mirror. The parallel rays striking the bottom mirror are then focused at the focal point (the hole).
Directions:
Make certain that the coin is placed directly in the center of the lower mirror. If performing this demo for a large class, you might use the camera and overhead projector to make the image visible to the class. (An overhead transparency is available for showing the ray diagrams.)
Suggestions for Presentation:
This is best done in a small group where the image can be viewed directly, but you can do a fair job in a large-class setting. Allow the students to try to "pick" the coin out of the air. It looks real because in some sense it is--rays are diverging from this real image, which is exactly what happens from a real object.
Applications:
Images from concave mirrors.
Last Updated: Jul 19, 2023 10:57 AM