Demos: 5A-31 Electric Dipole Model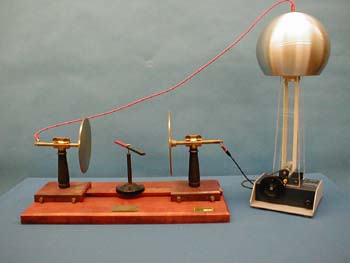 A wooden dowel rod is balanced on a sharp needle and placed between a pair of parallel plates connected to an electrostatic generator. When the plates are charged, the dowel rod aligns itself along the E-field, which is perpendicular to the faces of the plates.
Directions:
Because the dowel may have a preferred rest position, take some time to orient the base so that the dowel rod is aligned initially away from the direction of the resulting E-field. This will make it more evident that the rod is being realigned when the field is established.
Suggestions for Presentation:
Ask the students whether an electric field will have any influence on the dowel rod since it is not a conductor. If it does have an influence, how can it occur?
Applications:
Last Updated: Jul 19, 2023 10:57 AM