Demos: 3E-15 Drinking Bird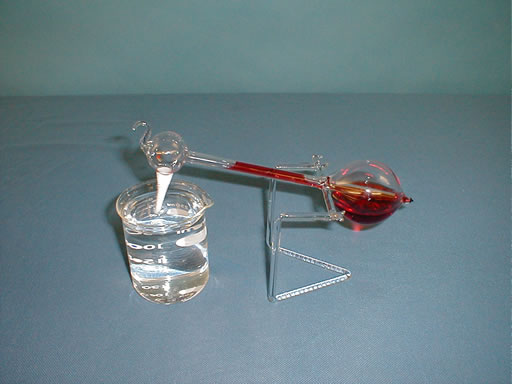 The Drinking Bird uses evaporative cooling to move the fluid within its body which causes a change in its center of mass which in turn causes the bird to tip.
Start the demonstration by having the bird dip its head into the water. The water adheres to the fuzzy head and will start to evaporate. The evaporation of the water cools the gas on the inside of the bird which lowers the pressure. The gas will also condense, lowering the pressure further. The pressure inside the lower portion of the bird's body is now less than the pressure at the top. This will force the liquid up the body which will change the center of mass of the bird causing it to tip. As the bird tips, the pressure on the inside will equalize, the fluid will flow back to the bottom of the bird forcing the bird to become upright. The fuzzy head, still wet from the tip will cause the bird to dip and the process will begin again.
Last Updated: Jul 19, 2023 10:57 AM