Demos: 3E-13 4 Cycle Gas Engine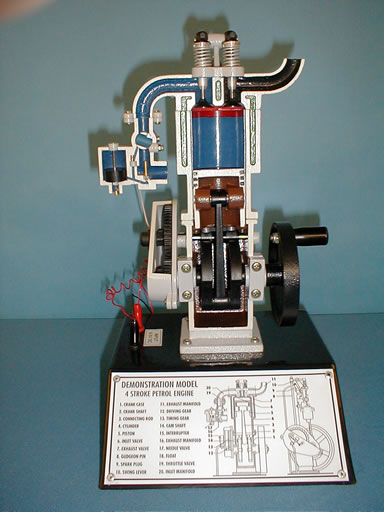 This is a working model of a 4 cycle internal combustion engine. This model exhibits the following four cycles:
Intake – the piston is at the top of the cylinder. The inlet valve is open and the exhaust valve is closed. A fuel-air mixture is drawn into the cylinder.
Compression – the piston moves downward. The inlet and exhaust valves are both closed. The air-fuel mixture is ignited by an electric spark from the spark plug.
Expansion – the high pressure of the ignited gases forces the piston upward. Power is obtained through this cycle.
Exhaust – at the end of the expansion cycle, the exhaust valve is opened and the inlet valve remains closed. The upwards motion of the piston forces the burnt gases out of the cylinder.
The pattern continues. During the 4 cycles, the piston makes one complete trip and the crankshaft makes two complete revolutions. The crankshaft is attached to the pistons and coverts reciprocating motion into rotational motion.
The most common use of the 4 Stroke engine is in automobiles and aircraft. A typical automobile engine has an output of 30-60 kilowatts at 4500 rpm. Small aircraft use radial four stroke engines with an output of 400-4000 kilowatts.
Last Updated: Jul 19, 2023 10:57 AM