Demos: 3A-06 Heat Engine Apparatus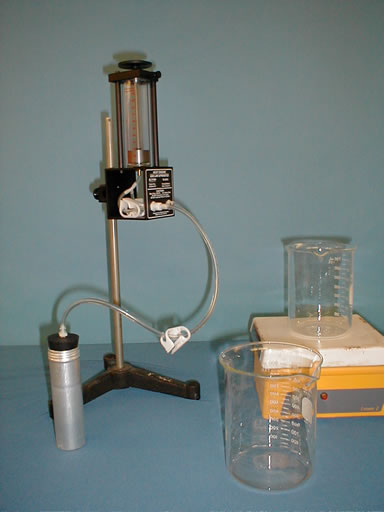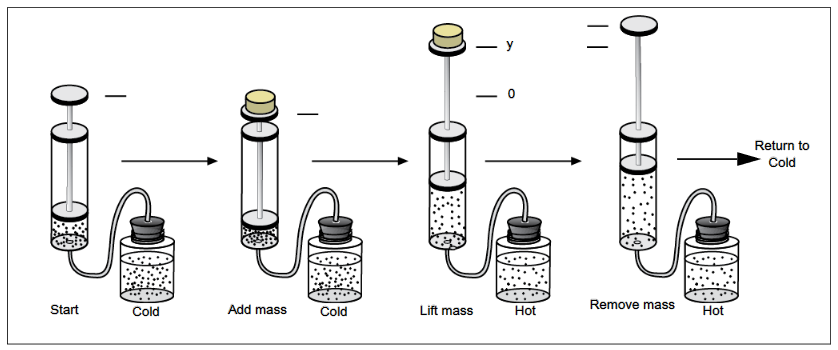 This device allows you to demonstrate a Heat Engine Cycle. The apparatus consists of a graphite piston which fits snuggly in a glass cylinder. The piston moves nearly friction free. There is also an air chamber connected to the cylinder. By coupling this apparatus with the Pasco 850 Universal Interface, various sensors and Capstone Software you can display in real time values of pressure and volume.
This demonstration allows you to show the four cycles of an Ericsson Heat Engine. The Ericsson Engine is an external combustion engine. It works on the principle of two isobaric processes and an adiabatic expansion/contraction. With the use of the interface and sensors you can show the results of a pressure versus volume graph made in real time.
Start with the can immersed in the cool water and follow these steps.
Add the mass to the piston platform (a → b).
Move the can to the hot water (b → c).
After the mass is lifted, remove it from the platform (c → d).
Return the can to the cool water (d → a) and press Stop.
Last Updated: Jul 19, 2023 10:57 AM