Demos: 2C-09 Leaf Blower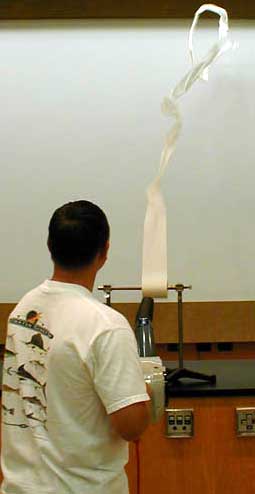 This demonstration is similar to
2C - 8 (Air Foil)
. A roll of toilet paper is set up on a stand so that the roll unwinds away from the demonstrator. A rapid stream of air from a leaf blower is projected over the top of the roll. Because of the lower pressure over the top, the paper is lifted into the air stream and the impact of the air drives it forward, unwinding the roll.
Directions:
This is a straightforward, but effective demonstration. Turn on the leaf blower and direct the stream over the toilet paper roll. A little practice will find the best angle to get the optimum results.
Suggestions for Presentation:
This is a good demo to perform at the end of class. Ask the students to think about the air foil demo and what happens when a stream of air is directed over one side of an object. Then turn on the blower! Long streams of paper will fly out over the class.
Applications:
None evident, except some aspects of the motion here is related to why flags wave.
Last Updated: Jul 19, 2023 10:57 AM