Demos: 1S-43 Standing Waves--Metal Plate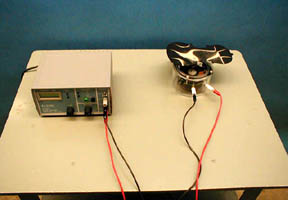 A thin metal plate (of various sizes and shapes) is supported horizontally by a mechanical vibrator. The vibrator is engaged and fine sand is sprinkled on the plate. The frequency of vibration can be adjusted to produce different patterns on the plate. Standing waves are set up on the plate and sand accumulates along points and lines of least vibration. The system is easily viewed using the video camera projection system.
Directions: Have the video camera focused on the plate. Sprinkle sand on the plate and increase the frequency until patterns begin to emerge. Point out the nodes and anti-nodes.
Suggestions for Presentation: Remind the students of standing wave patterns produced along a single dimension. Then suggest that if there are two degrees of freedom, standing wave patterns can be produced in a plane. Discuss how the shape of the plate as well as the placement of nodes can affect the overall pattern. Note: The patterns developed on the "violin" plate may be misleading, because on a real violin, the support points are different.
Applications: Drum heads, sound boxes for musical instruments.
Last Updated: Jul 19, 2023 10:57 AM