Demos: 1J-23 Corks & Forks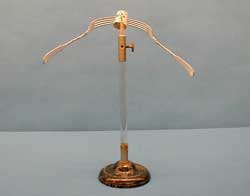 The demonstration is a good example of the case in which the CG is not in the body itself. The balancing seems to defy gravity.
Directions:
The forks are already embedded in the corks. A small pin in the cork has a tiny depression that allows it to be placed on the sharp point of the stand. The forks may be pushed gently to make the system oscillate. The equilibrium position is stable, showing that the CG of the system is below the contact point and directly beneath it, although no mass is present there.
Suggestions for Presentation:
Ask students how difficult it might be to balance this system on a sharp point. Where is the center of gravity? How would you find out?
Applications:
A number of toys exist that use this principle. Usually a heavy ball is placed on the end of a curved wire that passes under the suspension point. If one were to walk a tightrope carrying a long, bar whose ends were quite massive and well below the wire, balance could be achieved with no difficulty. (Do not confuse this with carrying a uniform straight bar. That has to do with rotational inertia.)
Last Updated: Jul 19, 2023 10:57 AM