Frank Liu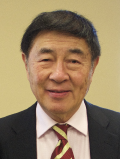 Outstanding Alumni 2015

B.S., Physics, National Taiwan University
M.S., Physics, Purdue University
M.S., Electrical Engineering, Massachusetts Institute of Technology
M.S., Computer Science, Massachusetts Institute of Technology
Chairman, Chelmsford International Ltd.
Frank Liu has over twenty five years of successful venture capital and private equity investment experience in technology/manufacturing/service and media companies in the Asian Pacific region.  From 1989 to 2002, he was a Director and Executive Vice-President for Transpac Capital Pte Ltd. where he oversaw the investment and management of over $820 million (US), including successful investments into and exits from Ting Yi, Hsu Fu Chi, Alibaba.com, Neon-Neon, and Guan Dong Food Star.    In his current role as free-lance financial advisor, Mr. Liu continues to work in all phases of venture capital and private equity.  He currently serves as a board member of Primax Electronics Ltd, China Yong Shen Ltd, and SBDMC and is a director of Taiwan M&A and Private Equity Council (MAPECT).  
From 1984-1988, Mr. Liu was Managing Director of Li & Fung (Taiwan) Ltd and was responsible for setting up Li & Fung's Circle K franchise operation and Toys " R " US joint venture in Taiwan. Prior to that, Mr. Liu held general management positions with subsidiaries of China Trust Group in bicycle manufacturing and trading from 1979 to 1983.
Mr. Liu founded Oriental Enterprise and General Textile Company during 1971 to 1978 selling polyester fiber domestically and exporting fabrics and yarn from Taiwan and South East Asia.
From 1967-1971, Mr. Liu was instrumental in setting up Taiwan subsidiary for then RCA-pioneering the development of electronics industry of Taiwan ranging from television, integrated circuits and computing device manufacturing & product developments.
Last Updated: Apr 29, 2016 4:53 PM