Albert W. Overhauser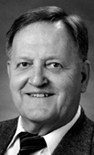 Honorary Degree Recipient

Doctor of Science, Purdue University 2005
Distinguished Professor Emeritus of Physics Albert W. Overhauser has distinguished himself as an internationally renowned scientist who has made many original and profound contributions to physics across a wide range of fields.
In particular, his discovery of the phenomenon of dynamic nuclear polarization, known as the Overhauser effect, has revolutionized the field of nuclear magnetic resonance and has led to far-reaching applications in biology and medicine.
Born in San Diego and raised in San Francisco, he earned his bachelor's degree, magna cum laude, in physics and mathematics from the University of California, Berkeley, in 1948. In 1951, he also received his doctorate there. Overhauser began his formal research and teaching career at the University of Illinois in 1951. From 1953 to 1958, he carried on his work at Cornell University. For the majority of his career, he also served in various research capacities at Ford Motor Company.
In 1973, he departed Ford for Purdue University to become professor of physics, leaving behind the post of director of the Physical Sciences Laboratory. Throughout his career, Overhauser has maintained a high level of world-class productivity. He served Purdue as the Stuart Distinguished Professor of Physics from 1974 to 2004 and is now Distinguished Professor Emeritus.
Overhauser is a member in the National Academy of Science and a fellow in the American Academy of Arts and Sciences. He also was awarded the National Medal of Science. Other significant honors include an Honorary Doctor of Science from the University of Chicago, an Honorary Doctor of Laws from Simon Fraser University and the Oliver E. Buckley Solid State Physics Prize.
Overhauser has held membership and posts with numerous distinguished professional societies, boards and committees. As a teacher and mentor, many of his graduate students and associates have gone on to distinguished careers of their own. Purdue took pride in recognizing Overhauser's scientific achievements by awarding him the Sigma Xi Faculty Research Prize and the Herbert Newby McCoy Research Award in 1977 and 1978, respectively.
Last Updated: Apr 29, 2016 4:14 PM