Ralph P. Hudson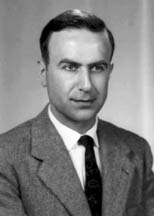 Honorary Degree Recipient

Doctor of Science, Purdue University 2001.
Ralph P. Hudson has had a distinguished research career that includes participation as a key member of a team responsible for a groundbreaking experiment.
Retired from the International Bureau of Weights and Measures in Paris, France, Dr. Hudson today lives in Chevy Chase, Md. He was born in Wellingborough, Northamptonshire, United Kingdom, and received his bachelor's degree in 1944 from Oxford and his master's and doctorate degrees from Oxford in 1949.
He was a visiting lecturer in the Purdue Department of Physics in 1949 and 1950. In 1951 he joined the cyrogenics section of what was then called the National Bureau of Standards, and was later chief of that section and then chief of the heat division. The National Bureau of Standards is now named the National Institute of Standards and Technology.
Dr. Hudson served as deputy director of the Center for Absolute Physical Quantities at the National Bureau of Standards. He was a staff member of the International Bureau of Weights and Measures in France, where he also served as editor of Metrologia for nine years. He served as progam manager at the National Science Foundation from 1989 to 1992.
Dr. Hudson's scientific activities and contributions have been varied and significant. He is highly respected in both the low-temperature physics and fundamental standards areas. He was a key member of a team that carried out groundbreaking, landmark research in the 1950's confirming a prediction that a parity violation would occur in the beta decay of oriented cobalt 60.
Dr. Hudson's honors include the John Price Wetherill Medal of the Franklin Institute, the Stratton and Condon Awards of the National Bureau of Standards and the Gold Medal of the U.S. Department of Commerce.
Purdue is extremely honored to have this opportunity to recognize Ralph Hudson for a lifetime of achievement and contributions in science.
Ceremony photographs:
photo1
photo2
Last Updated: Apr 29, 2016 4:01 PM