Dan Fleetwood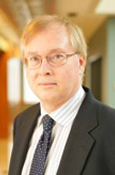 Distinguished Alumnus 2007

BS 1980, Honors Physics and Applied Mathematics, Purdue University
MS 1981, Physics, Purdue University
PhD 1984, Physics, Purdue University
Dan Fleetwood joined Sandia National Laboratories, Albuquerque, New Mexico, after completing his PhD at Purdue. He left in 1999 when he accepted a position at Vanderbilt University. He is the author of more than 280 publications on radiation effects in microelectronics and low frequency noise, ten of which have been recognized with Outstanding Paper Awards.
In 1997, he received R&D 100 and Industry Week magazine awards for co-inventing a new type of computer memory chip based on mobile protons. The chip was recognized as Discover magazine's 1998 Invention of the Year in computer hardware and electronics. In 2000 he was named one of the top 250 most highly cited researchers in Engineering by the Institute for Scientific Information.
Dan is a Fellow of the Institute of Electrical and Electronics Engineers (IEEE) and The American Physical Society (APS), and a member of the Phi Beta Kappa, Sigma Pi Sigma, and Phi Kappa Phi honorary societies. He has earned the Senior International Correspondence Chess Master title, recently finished eighth in the World Correspondence Chess Championship, and now represents the US in the 15th Correspondence Chess Olympics.
Originally from Surprise, Indiana, Dan is a 1976 graduate of Seymour (Indiana) High School, and the son of Louis and Dorothy Fleetwood. Dan, his wife Betsy, and their three sons live in Brentwood, Tennessee
Career Highlights
1999–Present Professor of Electrical Engineering, Professor of Physics; Vanderbilt University
2003–present Chair, Electrical Engineering and Computer Science Department; Vanderbilt University
2001–2003 Associate Dean for Research; Vanderbilt School of Engineering
1984–1999 Senior/Distinguished (1990) Member of Technical Staff, Radiation Technology & Assurance Department; Sandia National Laboratories
1998 Invention of the Year award from Discover magazine
Last Updated: Apr 29, 2016 3:09 PM