Warren E. (Gene) Bulman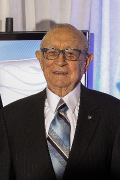 Distinguished Alumni 2015

BA 1948, Physics, Berea College
MS 1951, Physics, Purdue University
PhD 1958, Electrical Engineering, The Ohio State University
Dr. Bulman was born on January 3, 1923 in Woodville, AL and graduated from Woodville High School. Dr. Bulman received his B.A. degree from Berea College (Kentucky) in 1948, his M.S. in Physics from Purdue in 1951, and his Ph.D. in Electrical Engineering from The Ohio State University in 1958.
From 1951 to 1952, he was an Electronic Scientist and Physicist with the National Bureau of Standards where he was engaged in research and development involving electromagnetics and electronic circuits relating to proximity fuse application.
From 1952 to 1955, Bulman was at Battelle Memorial Institute where he was Principal Physicist and Group Leader in the solid state devices division. He was engaged in research on semiconducting materials, surface effects and various new device concepts involving both elemental and compound semi-conducting materials. He was involved in directing and participating in research on field-effect devices, micro devices, transistors and galvanomagnetic devices with particular emphasis upon the role of materials properties in the device design.
From 1955 to 1958, Dr. Bulman was Associate Supervisor of the Antenna Laboratory at The Ohio State University. He conducted studies of back scattering and angular, or bistatic, scattering of radar from aircraft and various objects with emphasis on making aircraft less detectable. He did research on the utilization of solid state materials in microwave applications. He theoretically predicted and then demonstrated a new microwave modulator based upon free electron interaction processes in semiconducting materials.
Dr. Bulman organized Ohio Semiconductors Inc. in 1956 and was President and Chairman of the Board until 1960 when the company became a division of Tecumseh Products. This organization had numerous firsts in the semiconductor field and was generally recognized as the leader in thermoelectric and compound semiconductor technology. It was the first to offer for sale high-purity, electrically characterized indium antimonide, indium arsenide, gallium arsenide, gallium phosphide and other III-V compounds now widely used in many applications. Dr. Bulman is recognized as the leader in Hall effect device technology. Ohio Semiconductors developed and sold the first commercially available magnetoresistance devices. It developed and sold the first commercially available thermoelectric cooling devices.
From 1960 to 1964, Bulman was a Vice President of Tecumseh Products and General Manager of the Ohio Semiconductors Division. During this period, due to Tecumseh's position as the leading supplier of compressors in the world, an intensive thermoelectric material, product and applicational effort was mounted under his direction.
In 1964, Dr. Bulman and Dr. A.E. Middleton organized Ohio Semitronics, Inc. and he has been Chairman of the Board, President and technical leader. This organization makes semiconducting materials, devices, transducers and instrumentation used to measure energy consumption or monitor the various parameters of equipment operating on DC or AC power. This organization has designed and built special equipment used on spacecraft. OSI also designs and manufactures special equipment for the US Dept. of Defense. Its major business is providing transducers and instrumentation to industry, laboratories and commercial customers.
Dr. Bulman has taught Physics at Purdue University and Electrical Engineering at The Ohio State University. He has several publications and has presented many papers at technical meetings. He has participated in the Distinguished Lecture Series and has presented a keynote-invited paper at the International Hall Effect Applications Conference.
Bulman is a member of many technical and professional societies including IEEE, American Physical Society and the Electrochemical Society. He is listed in American Men of Science, Who's Who in Industry and Finance in the World and Who's Who in the Midwest.
Dr. Bulman's community activities have included Chairman of Blue Cross of Central Ohio, Board of Mercy Hospital, Board of St. Anthony Hospital, Board of Marburn Academy, Board of the United Methodist Children's Home and Whitehall Planning Commission. He has been a member of the Columbus Rotary Club for over 30 years.
Bulman is a veteran of World War II. He was a pilot and instructor in the US Army Air Force and served in the China-Burma-India theatre.
Last Updated: Apr 29, 2016 1:55 PM