| | |
| --- | --- |
| | Search Engines and Directory: |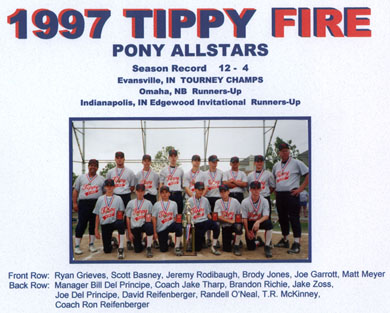 COPY OF TIPPY FIRE PRESS RELEASE; August 12, 1997
Local 13-Year Old Tippecanoe County All-Star Baseball Team Captures Silver in PONY-13 World Series Play
PONY baseball has provided more post-season opportunities for 13-yr old baseball players participating in sanctioned PONY League play. Because of the large growth spurt that often occurs between the ages of 13 and 14, 13 year olds are often not selected for All-Star team participation in local PONY district and regional tournaments. For this reason, a number of tournaments featuring 13 year old PONY affiliated teams were held this season.
The 13-year old team formed from the Tippecanoe Baseball League (TBL), the Tippy Fire, has completed a very successful tournament season. Featuring a number of come-from-behind victories and solid hitting throughout the line-up, they recently captured second place in the PONY-13 World Series played in Omaha, Nebraska between Aug. 4-10, 1997.
Showing good team play from the start, the Fire captured second place in their first tournament, the Edgewood Invitational held on July 18-20.
They qualified for a berth in the PONY-13 World Series by going undefeated in the Indiana-Kentucky 13 yr. old PONY Tournament during the July 24-26 weekend in Evansville, IN.
Tippy Fire fared well on their week long, 1100 mile round trip to the PONY-13 World Series held in Omaha, Nebraska from August 4-10. The Fire placed second in a field of the top fourteen PONY affiliated 13 year old teams from the states of Indiana, Illinois, Kentucky, Missouri, Iowa and Nebraska. Playing eight games in five days, the team advanced to the championship game by defeating an Oak Park IL team by an 11-8 score. The Fire lost in the championship game to the regional host team from Millard, Nebraska.
The entire team is deeply appreciative for the time that coach Jake Tharp, a former Clinton Prarie standout, gave to the team. His efforts made a real difference in the close, must-win games.
The Fire finished their tournament season with a 12 W - 4 L record.
The generous team sponsor was The Farmers State Bank located in Brookston and Battle Ground.