Our lab is actively involved in a number of outreach activities. These include
Undergraduate Research: Opportunities always exist for motivated and talented undergraduates to work in our research lab.
Undergraduate Teaching: During the Fall 2003 semester, we will be a technical supervisor for an EPICS course designed to introduce Nanotechnology to middle school and high school kids.
High School: We offer the opportunity for high school students to "Job Shadow" for a day one of our research graduate students to learn more about what physicists do and how they do it.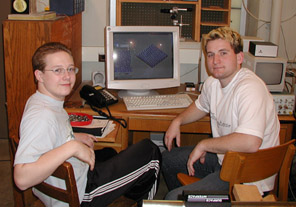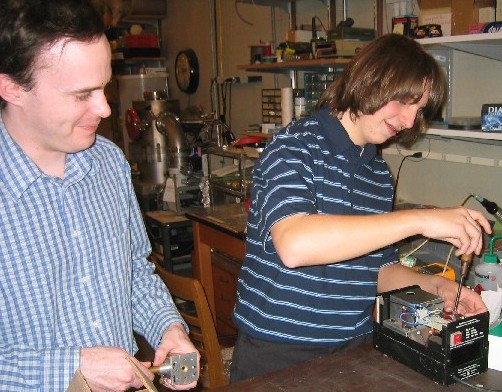 Example of job shadowing. TOP: Kyle Sigo(left), a student at Harrison High School, visited our lab and followed Gabor Pszota (right) around for a day. Kyle learned about Nanoscale Science and Scanning Probe Microscopes from Gabor. BOTTOM: Joel Therrien(left) showing Chris Doty (right), a student from Brownsburg Middle School, how to calibrate a photodiode. Chris learned about Nanoscale Science during his day long visit to Purdue.
We have also made presentations to high school and middle school science classes explaining what nanotechnology is and what promises it offers for the future.