The Prestigious M.O.P. Award
The Auburn chapter of the Society of Physics Students honored me with the M.O.P. award in 2012. To commemorate this event, the SPS president presented me with a paper napkin signed by all of the SPS members who attended the awards ceremony that evening; I will always treasure this paper napkin!
But now there's more.... The actual award has arrived and was revealed to be a ceramic bobble head doll that has a totally creepy resemblence to me. (Pictured below with unscripted outfit!) Some students say the bobble head doll was made with chalk from the homework board mixed with students' tears of frustration and rage from E&M and Thermo orals. Other students say the bobble head is a voodoo doll; if it breaks, I'm cursed to work on unsolvable plasma physics projects for the rest of my life.
For some reason, the bobble head seems to most easily bobble side-to-side indicating that the student's answer is wrong or, at best, misguided. If you work hard, you can make the head bobble front-to-back indicating a correct answer!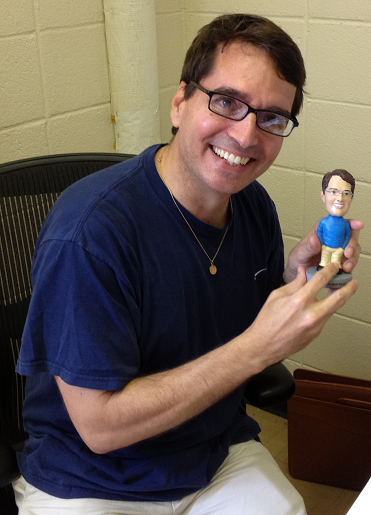 Photograph by Joey Shaw---whose goal in life is to break my concentration every time he walks past my office.