Hubert James Distinguished Professor of Physics
09/24/2004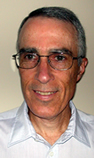 Nicholas J. Giordano named Hubert James Distinguished Professor of Physics

Giordano has been teaching in the Department of Physics at Purdue since 1979 and served three years as an assistant dean of Purdue's College of Science.

He has an international reputation for his work in the field of mesoscopic physics, a branch of the general field of nanoscience. Mesoscopic physics includes the study of electrical effects in some of the tiniest pieces of matter that humans have worked with yet - materials so small that their sizes are most conveniently measured in nanometers, or billionths of a meter. At that scale, the physical forces governing everyday objects in the human-sized world are joined by quantum forces that govern behavior of atoms.

His research focuses on the properties of metallic nanostructures, the behavior of liquids in nanoscale systems, noise and fluctuations in condensed matter systems, musical acoustics and the physics of the piano.

Giordano has received numerous awards, including the Alfred P. Sloan Foundation Research Fellowship, American Physical Society Fellowship and the U.S. Department of Energy Computational Science Education Award. From Purdue, he earned the Charles B. Murphy Award for outstanding teaching and Herbert Newby McCoy Award, which is presented annually to the student or faculty member who made the greatest contribution of the year to science. He also is a fellow of the Purdue Teaching Academy.

Giordano graduated with honors from Purdue with a bachelor's degree in physics in 1973, after which he earned his doctorate in physics from Yale University. He remained at Yale as an instructor and then assistant professor until 1979, when he joined Purdue's faculty.